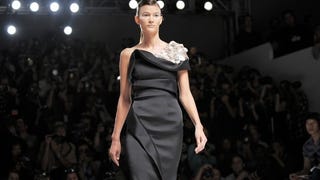 Singapore-born, Kathmandu-raised designer Prabal Gurung today presented the kind of put-together collection that demonstrates why his work has quickly become a favorite of Michelle Obama, Demi Moore, and other women who value glamor, but also like being taken for grown-ups.
Not only does George Clooney not have a clothing line, he is so offended by the notion that he would have one that he's testifying against three guys who claimed that he was launching a line called "GC Exclusive."
Vogue books a passage to India this month. And, for once, it brings an Indian model — the divine Lakshmi Menon.
The new December/January issue of Teen Vogue has Twilight's Kristen Stewart on the cover, and inside, a "Night Shift" photo shoot with not one but two black models. Big sister Vogue includes two black models — and Indian model Lakshmi Menon — in a jewelry story this month, and there are black models scattered through…
Rapper and fashionisto Kanye West announced from the men's shows of Milan that he is, indeed, teaming up with LV to design some kind of shoe. To which we say: okay. [WWD via Perez Hilton]