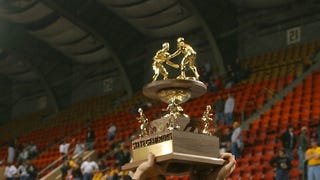 Yesterday, seventh-grader Audrianna Beattie — a straight-A student who's fighting to be allowed on her middle school's boys wrestling team — testified before a Federal judge for 40 minutes. (As a former 12-year-old, I am dumbfounded as to how she stayed on one topic for 40 minutes.) Audrianna's rural Pennsylvanian…
The Kick-Ass sequel hits theaters in August, and in this trailer, you see the character of Hit Girl — a 15-year-old vigilante played by Chloe Grace Moretz — in what seems to be a training session, beating up the character of Dave Lizewski, who masquerades as Kick Ass. She punches and kicks him, and then, as he lies…
Rosie, a 54-year-old British donkey, may have broken the Guinness World Record for oldest donkey. Her secret? Drinking a cup of Guinness every day. "That's mixed in with her food, she's not a boozer," says her owner. [The Mirror]
I went to see Kick-Ass yesterday, mostly for the same reason a whole lot of people - including Roger Ebert, with whom I agree about 95% of the time - hated it. But I did like it. Here's why.
"It was an amazing character and so different from what any other kid has done, aside from my idols: Natalie Portman in The Professional and Jodie Foster in Taxi Driver." — 13-year-old Chloe Grace Moretz, of Kick-Ass. [Reuters]
Kick-Ass has been hotly debated since the trailer debuted, featuring 11-year-old assassin Hit Girl calling bad guys "cunts." Critics still disagree about her character, but say the film may do for superhero movies what Pulp Fiction did for crime films.
First things first — while a lot of the buzz is about Hit Girl, she's a side character. The actual movie is about the main protagonist in Kick Ass, Dave Lizewski, a geeky kid who decides to become a super hero. Here's the other trailer that focuses on Lizewski: