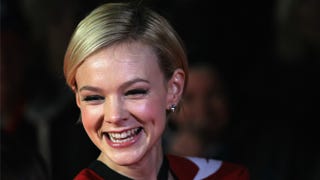 It's all happening! Carey Mulligan and Marcus Mumford (otherwise known as the Sith version of Michelle Williams and Jason Segel) are getting married on top of a mountain, and there's going to be flutes playing and trombones and flowers and garlands of fresh herbs. And they will dance until the sun rises. And then…
One Call's "BlackLight" stars Kendall Jenner, Kevin McHale (Artie from Glee) and Ashley Benson from Pretty Little Liars. If Kendall's writhing upskirt shots don't make you sad, maybe the Auto-Tune will? A warning: Watching this may make you feel old.
Today on The Gayle King Show, Wyclef Jean responded to Sean Penn bashing his run for President of Haiti saying, "I am not absent in Haiti, maybe the tent city you're in, maybe I'm absent in that."
[Cannes, May 20. Image via Splash.]
[London, June 14. Image via Flynet.]