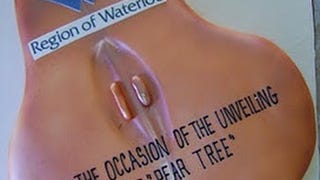 Neither vagina, ass nor diaphragm, this is, in fact, a cake model of a bronze sculpture called "Pear Tree." No word on whether said sculpture resembles the aforementioned items (or a bedpan, even). Any locals care to weigh in?
Now even staunch Team Cake supporters can enjoy pumpkin pie with Food Beast's recipe for pie-filled cupcakes. We suggest you bring a batch to Thanksgiving dinner to prevent an ugly cake vs. pie family feud.
After a Secret Service agent was spotted near Sweet E's Cupcakes shop on Martha's Vineyard, vacationers and news crews gathered, requiring police for crowd control. The Obamas missed the scene, as they were actually dining at Nancy's restaurant miles away.
Witness the Cherpumple, a three-layer cake stuffed with pie — cherry, pumpkin and apple (get it) pies embedded in yellow, white, and spice cake, to be precise. Check out the recipe, and find a moment's peace in this ongoing war.
Talk about just desserts! Warning: All this mouth-watering, frosting-laden, pink, sprinkle-covered ink might give you a toothache. [CityRag]
A new study reveals that when your appetite is whetted, you're more likely to impulse buy, reports EurekAlert. Scientists have discovered that a delectable aroma can make you purchase something you can't really afford: Female study participants in a room with a hidden chocolate-chip cookie scented candle were much…