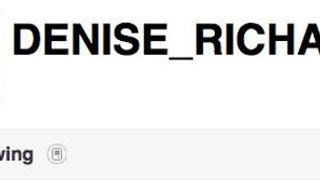 Today in Tweet Beat, John Mayer apologizes for using the N-word, and celebs—like Talib Kweli, Margaret Cho, Ice-T—opine on his "white supremacist" penis and other remarks from his Playboy interview. Speaking of racist dicks, it's Glenn Beck's birthday!
Today in Tweet Beat, Bob Saget remembers old times, Candace Cameron has new shoes, Jane Fonda is hanging out with Cat Stevens, and the Fort Hood tragedy reminds Hugh Hefner—and us—how freaking old he is.
Today in Tweet Beat, Spencer still loves antagonizing Lauren, Tyra is still trying to make "smize" happen, and Yoko is still a hippie.
Today in Tweet Beat, celebs like Chris Brown, Pink, Katy Perry, Jenna Jameson, and Ricky Martin all turn to Twitter to weigh in on Kanye West's behavior at last night's VMAs.
Today in Tweet Beat, Jody Watley is jealous that Ellen DeGeneres has two jobs, Stevie Wonder watches Real Housewives of Atlanta, and Kim Zolciak does her usual climbing.