The track bangs and the video is very It Follows. Don't go in the graveyard man what are you doing!!!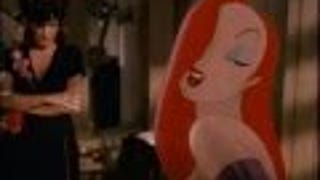 All you movie nerds who used to watch Who Framed Roger Rabbit and say condescendingly to your friends, "Well, you know, Jessica Rabbit is based on Veronica Lake," need to check your movie privilege because you are completely wrong. Or half-wrong. Veronica Lake, known best during the early stage of her career for…
Kristina Rei says: "When I can afford it I want to enlarge my breasts from a C-cup to a DD, change the shape of my nose and I want to make my ears pointed like an elf. It's good to be different."
Since prosecutors called Amanda Knox a "satanic, diabolic, she-devil" earlier this week, her attorney wanted to counter their salacious description ... so he compared her to Jessica Rabbit. Defense attorney Giulia Bongiorno said yesterday in closing arguments, "Jessica Rabbit looks like a man-eater, but she is a…