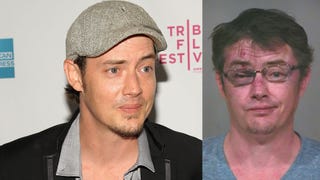 Obviously substance abuse is not funny, physical harm is not funny, falling from grace is not funny, loss of bowel control is not funny, incarceration is not funny, and whatever the fuck happened here was really not funny. That said, LOOK AT THE SMIRK. The smirk is the funniest thing I have ever seen. The smirk is my…
A court hearing has been scheduled for tomorrow morning to determine whether or not Lindsay Lohan can leave rehab two months early, but sources say she's already signed discharge papers and will sneak out today to avoid a media frenzy.
Charlie Sheen is due in court today and his lawyer says he'll plead guilty to misdemeanor assault against Brooke Mueller. However thanks to a plea deal, he won't serve any time.
Demi Moore and Salma Hayek were spotted having dinner and talking about working together, possibly on a comedy.
Earlier this week, Megan Fox's rep confirmed that she got re-engaged to Brian Austin Green. Last night she said, "We've been engaged for four years, so I don't know why the story is breaking now like it's new."