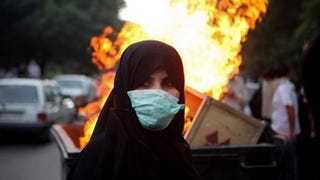 With Ahmadinejad now selecting his cabinet, some fear this summer's protests in Iran were a failure. But according to an anonymous Iranian journalist writing in The New Yorker, they've had a big effect on the country's women.
[Tehran, June 13. Image via Getty.]
The New York Times is reporting that Iranian President Mahmoud Ahmadinejad has been re-elected by the Iranian people, what Iran's government is calling "a landslide." Ahmadinejad's opponent, Mir Hussein Moussavi, claims the results are false.