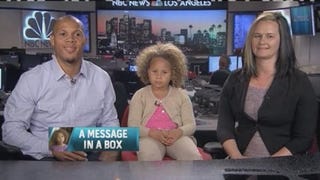 Joined by parents Janet and Christopher, six-year old Grace Colbert hammed her way through an interview with MSNBC Tuesday morning, proving that the whole Internet can be freaking out about the fact that you're biracial, but if you're a child actor you think all the hubbub is just because you have such a "great smile."
There was a time, not that long ago, when interracial marriage in the U.S. was a completely illegal no-no. Well, flash forward to a half-century or so later, and the picture looks completely different. Intermarriage between races has been steadily on the rise and has now, according to a new study from the Pew Research…
According to the latest census estimates, multiracial people are the fastest-growing demographic group in the U.S.
I'm a writer for an advertising agency in Boston, but I grew up in Philadelphia and I am still registered to vote in Montgomery County. I'm no superdelegate, but my vote come April is sure to matter in this primary season. I wrote this "formal endorsement" of the Illinois senator, highlighting his "interracialness…

So here's a clip from last night's episode of Real Housewives of Orange County. It's very short, and mildly disturbing. The biological daughter and stepdaughter of Housewife Lauri are trying on costumes to be silly. One girl puts an ape mask on her stepsister and the stepsister says, "My parents are interracial."…