Cat-bin lady has been fined £250, still has no explanation for her atrocious behavior.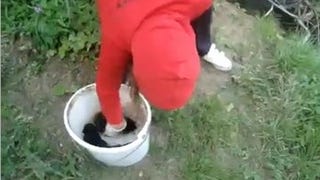 The authorities believe they've found the girl who became infamous for drowning six puppies on camera. She's apparently a minor, but could still face a $6,400 fine for animal cruelty.
In this (fucked-up, not-suitable-for-breakfast-viewing) video, a girl tosses a bunch of puppies in a river. Luckily, the pups are being avenged by the most moral people on the Internet: 4chan users.