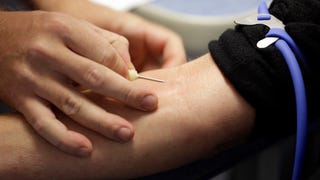 FDA Commissioner Margaret A. Hamburg announced today in a statement that the FDA has lifted its outright ban (in FDA-speak, "indefinite deferral") on gay men donating blood, shifting their policy to allow donations from gay men who have not had sex with other men in the past year:
Here's a crazy thought; legalizing prostitution could reduce the number of international HIV infections for female sex workers by at least a third in several countries. Health experts presented this new research drawn from Canada, India and Kenya during the 20th International AIDS Conference in Melbourne, Australia on…
AIDS prevention has been on a sort of rollercoaster in the past year or so, with exciting progress followed quickly by disappointing results. The drug Truvada showed promise in blocking transmission of the virus, but then an African trial had to be stopped because the drug wasn't protecting the women who took it. Now,…
In the discussion of one porn performer testing positive for HIV, a detail has been overlooked: the performer crossed over from gay porn to straight, which matters to the extent that the two industry sectors have very different safety norms.
• A Queens woman is suing a wig store after she suffered an injury at the hands of one of the mannequins. The plastic head fell onto her feet, leaving her unable to "make a fist with her toes."
Earlier today, British researchers announced a disappointing setback in the fight against HIV: The anti-HIV gel PRO 2000 was found to be completely ineffective against preventing HIV.
Last month, researchers made a big splash with the news that a new HIV vaccine reduced the risk of infection by 31%. But new analysis shows only a 26% reduction, which could have occurred by chance.
There's a heartbreaking account in this week's New York Times magazine about Swaziland's "truck-stop girls." And the sad thing is, this is one of the better stories.