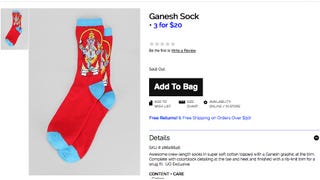 Hey, Urban Outfitters, I feel like it's been a while since we last caught up. What's new with you? Hybrid overall-tutus, you say? That's cool. What else — have you gotten into any new culturally insensitive exploits lately? Oh, you have? Of course. Classic Urb-Outf.
Australian swimwear label Lisa Blue has apologized for sending a swimsuit down the runway with an image of the Hindu goddess Lakshmi. The company has halted production of the offending item, but not before members of a Hindu nationalist party burned the Australian flag alongside images of the models. Cultural…
[Jakarta, March 15. Image via Getty]
[Allahabad, India; September 24. Image via Getty]
A Hindu organization attacked women in the college town of Mangalore, calling them "un-Indian for being out drinking and dancing with men." The attack has spurred debate on Indian women's behavior, including drinking and shopping.