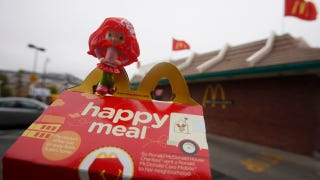 San Francisco's ban on Happy Meal toys goes into effect tomorrow, but McDonald's has already devised a plan that will allow them to keep selling the toys, and may even encourage sales of the kids' meals. Since restaurants in the city can't include a toy with a meal that doesn't meet certain nutritional standards, the…
The Center for Science in the Public Interest is suing McDonald's, accusing the chain of unfair marketing for using Happy Meal toys to lure children. A McDonald's rep responded, "Parents consistently tell us they approve of our Happy Meals."
Starting next month in San Francisco, meals containing more than 600 calories and 35% calories from fat can't include a toy. Lawmakers say Happy Meal toys encourage childhood obesity, but a McDonald's rep responds, "It's not what our customers want."
The mascot for the Filipino fast-food restaurant Jollibee dances to Justin Bieber, Michael Jackson, Ke$ha, and Beyonce, all while wearing a sweaty costume. Yet Ronald McDonald expects us to buy fries just because he wears a red wig and giggles?