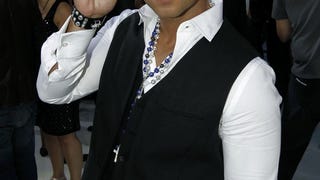 [Seaside Heights, August 10. Jwoww hits the gym; she'll stop by the tanning salon on her way home to do laundry, obviously. Image via INF.]
The trailer for season two of Jersey Shore—premiering July 29—will get fans (and fists) pumped. There's new cast hookups, new acronyms, infighting, hair-pulling, ass-slapping, and boob-smooshing. Also, Snooki's vagina hurts. Much more after the jump.
MTV aired the first 10 minutes of season two of Jersey Shore—premiering July 29—over the weekend, and we got to catch up with Snooki and the gang as they pack their bronzer (literally) and head for Miami.
[Miami Beach, April 5. Image via INFDaily.]
Today in Tweet Beat, Snooki needs help making time for GTL, Mario Lopez reminisces about when he and Ryan Seacrest were roomies, and Heidi Montag is starring in her first feature film.