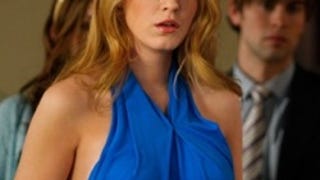 In an essay published in the Sydney Morning Herald, author Paul Sheehan blames websites like Perez Hilton, TMZ, and Jezebel, for promoting a culture of girl-on-girl crime. Thanks Paul!
Oh, brother. (Sister?) "Women don't listen to what's being said around them - unless they're eavesdropping or gossiping, according to new research." [Daily Mail]
According to a study conducted at Washington State University in Vancouver, gossip is a form of sociological warfare used to damage the reputations of competitors. Anyone who has survived 7th grade could tell you that!
Gossip Girl's Leighton Meester is not a bitch, she just she just plays one on TV. "It's pretty funny how many people say they are surprised that I am not a total bitch," says the brilliant brunette. • Fergie was named Blender's woman of the year. Is this for her "music" or for her incontinence advocacy? • Do you…
Meet actress Taylor Momsen. She's 14 years old, 98 pounds, and slated to star in the upcoming Gossip Girls TV show, based on the bestselling young adult literature series also known as Satanic Verses, which centers around a group of fictional teenage girls similar to the fictional teenage girls who actually relate to …