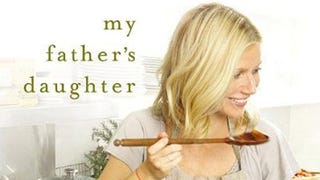 "I came across an axiom in a passage from a culinary memoir called Heat in which the author, Bill Buford, observes the following: 'You can divide people into two categories in life: cooks and bakers.'" More here.
Jenny Muller tried the 7-day juice detox as seen on Gwyneth Paltrow's GOOP: "Your intestinal tract may blow up like a cheap raft around day 2 and 3, but you'll have incredible drive and the skin of a supermodel." [TheDailyGreen]
If you're not on Goop's email list (why not?!) , you can still watch, and learn from, all five minutes of former Madonna-trainer Tracy Anderson's athletic gyrations, designed to help Gwyneth combat "the batwing problem." [Youtube, via Videogum]
Rebecca Dana: "For the last three weeks, I've strived to follow every single recommendation from GOOP, Gwyneth's weekly e-mail newsletter, in an effort to understand this complex star." [Daily Beast]
Hehe, this is so shades of "Antony" Hopkins. Gwyneth Paltrow refers to Billy Joel as "William". Seriously, no matter how well meaning, Ms. Paltrow's GOOP ghostwriter (or publicist) needs to nip this sort of pretense in the bud. [EW]
"Listen, I have a really blessed, weird, interesting life." [New York]
Maybe it's just contrariness, but lately I've been feeling sort of defensive about Gwyneth Paltrow: the recent vitriol - including charges of plagiarism - seems out of proportion. Anna disagrees. Both sides, after the jump!