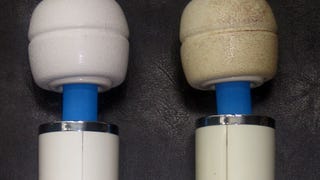 I recently retired my Magic Wand and was shocked to see how beat-up it was in comparison to my new one. So I got some pointers on vibes' shelf-lives—and how to keep them clean—from the experts at Babeland.
On last night's episode, guest Kelly Cutrone brought a bag full of various sex toys as gifts for Chelsea Handler, and then dished on her stint on The Hills, saying Stephanie Pratt "is just really completely out of it."
Yesterday's Oprah was wonderfully progressive, teaching parents how to talk to their daughters about sex, which included encouraging them to discuss the importance of pleasure, masturbation, and (gasp!) the purchase of vibrators.
I am perhaps too much of a product of the consumerist culture in which I live but, on some level, I usually like my vibrators almost as disposable as the boys I use for the same purpose. Yeah, unlike Tracie, I don't go the plug-in route — it's straight-up, hard molded plastic and a never-ending supply of C-batteries…
For a lot of us, masturbating is like eating: It's something we need to do to survive, and we've evolved beyond using our hands. (Or maybe it's just that some of us are so lazy that we've come to rely on technological advances to do it.) So when I packed to go on an 8-day vacation last week, I surveyed my vibe…
The Vibrator of the Year 2007 was announced by online retailer PriveCo Inc., and the winner is the Tongue Dinger. We're calling bullshit on this. The Tongue Dinger is a disposable oral sex enhancer made to fit over the tongue of the person going down on you, and although the price point is nice at $4.99, the…