I know it seems like I am on the baby bear beat lately, but that's only because I am.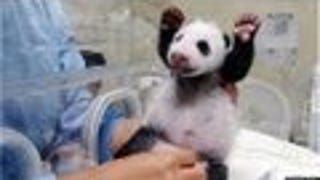 Yuan Zai, the Tai Pei zoo's newest giant baby cub, has been alive for just one month, but he has already turned into quite possibly the world's most emotionally manipulative creature. Watch out for this one — one day, if we're not careful, he'll become president of the world thanks to a remarkably persuasive speech…
Being a panda census-taker sounds like the most awesome job ever, but pandologist Yang Yi tells the LA Times it's not all it's cracked up to be: "Anybody who has experienced our work knows it is not that glamorous. It is sometimes boring and lonely."