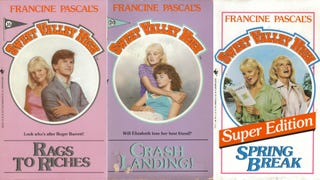 In a lengthy, worth-your-while essay, Amy Boesky reminisces on the six years she spent ghostwriting Sweet Valley High books. Boesky was a poet and a graduate student in literature at Oxford before she attended a life-changing dinner party and was introduced to SVH creator Francine Pascal.
I'm sure the publishers of the new 10-years-later Sweet Valley High sequel are hoping buyers will recapture the feelings they had reading the original series in the 80's. In my case, this was true. Banned from reading the lurid books at home, I had to resort to hiding the covers under my jacket. And 20 years later, I…
We still need to wait until '11 for the book, but this image of Sweet Valley Confidential: Ten Years Later gives us a glimpse of what we can expect — and of the now-estranged Wakefield Twins' awe-inspiring, perfect-size-64 beauty.
It's Sweet Valley Fever! Not only is there a Diablo Cody-helmed film in the pipe and the whole gang on Twitter, but an all-grown-up sequel is dropping in April 2011 — and we read the preview.
Welcome to 'Fine Lines', the Friday feature in which we give a sentimental, sometimes-critical, far more wizened look at the children's and YA books we loved in our youth. This week, writer / reviewer / blogger Lizzie Skurnick reads 'Hangin' Out With Cici', Francine Pascal's 1977 story about life before the Wakefield…