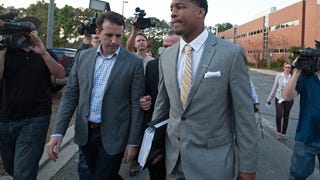 By now, you've read or heard about Florida State quarterback Jameis Winston's explicit, detailed statement denying that he is guilty of rape, in which he (or someone writing on his behalf) makes the remarkable assertion that "[t]he only thing as vicious as rape is falsely accusing someone of rape." It's not unusual…
Florida State quarterback Jameis Winston will sit out the first half of the Seminoles' game against Clemson Saturday as punishment for yelling "Fuck her right in the pussy" on a table in the middle of campus Tuesday.
"I believe that Mr. Winston cannot be convicted," Florida's chief assistant state attorney tells the Times. "I don't necessarily believe that he's innocent."
Weeks after leading the Florida State Seminoles to a national championship, quarterback Jameis Winston was quietly interrogated by university administrators, and two of his teammates were brought up on school conduct charges related to allegations that Winston raped a fellow student, according to a source with…