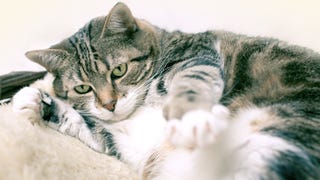 A little less than a month after Meow, a Santa Fe shelter cat that garnered some celebrity for weighing 39-pounds, died in an ecstasy of ice cream-flavored wet food sprinkled over ice cream, new fat cats have ambled into the spotlight to stake their own claims to fame. 30-pound SpongeBob momentarily captured the…
A study of 20,000 animals found pets, primates and rodents used in research, and urban rats are all getting fatter. Since lab animals aren't overeating, scientists theorize environmental toxins may be damaging the endocrine systems of humans and animals.
As American Apparel flirted with bankruptcy, suffered declining sales, got sued by Woody Allen, lost many of its workers following an immigration raid, and defended yet more sexual-harassment lawsuits, Dov Charney's performance was apparently so stellar he deserved a bonus.
Rachel Ray explored the subject of pet obesity, which should be a shocking exposé (33 million overweight pets in this country? While there's a food crisis elsewhere? Holy mackerel-flavored Purina!) The truth is, it's hard to be upset when the fat felines are so damn squishable. And hey: How come overweight humans are…