New York, Feb 12: The fall 2011 collection of designer Vivienne Tam is modeled during Fashion Week.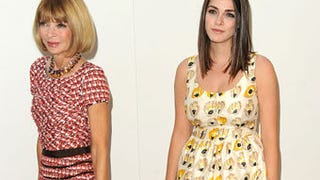 Anna Wintour's daughter, apparently a chip off the iceberg, runs things at home. Says mum,"Bee is in charge of assigning bedrooms, and heaven forbid you treat her poorly, or you'll find yourself sleeping in a closet." [Telegraph]
When I got my first AOL account at 14, I considered "GreenEyedMonster." That was because of my eye color, but looking at the Nicole Farhi Autumn/Winter in London, I wish I had it: the clawing envy would be apt.