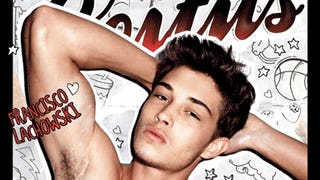 We don't exactly know what Coitus magazine is (although we can guess) but we do know that on a Friday afternoon, this animated gif is a welcome sight. Goodies below the jump.
In the recently reignited debate over whether women can fantasize about men who openly like other men, we'd like to offer some photographic evidence that it is, in fact, possible. And we're going to enjoy it.
Candy Crowley is taking over for John King on CNN's Sunday show. "Would I have gotten the job without having lost the weight? I don't know. That's an X factor," the campaign reporting veteran tells TVNewser.
A recent study has tallied up the amount of time that the average dude spend leering at women everyday: 43 minutes. But women are also guilty of checking out the goods, for an average of 20 minutes a day. [TheSun]
Is it just me, or is Ed Westwick, aka Gossip Girl's Chuck Bass, reminiscent of a modern day Lord Byron in this GQ photo shoot? Just me? Well: I added poetry by George Gordon Byron to images of Westwick. Enjoy.
Check out some of the great shots photographer François-Marie Banier caught of the handsome pirate who obviously has a horrid, disfigured painting stashed in his attic. [Vanity Fair]
Looky here! Jon Hamm on the cover of GQ. Actually, there are a few different covers, including one with Barack Obama… So many men, so little time! Inside the magazine? Lots and lots of dapper dudes, plenty of sweet, sweet man candy. Although many "Men Of The Year" were accomplished gentlemen who deserve applause, we…
We usually don't pay attention to pitches from PR companies, but when someone sent us a shirtless picture of Jason Statham, you can bet we took notice. So let's get the business part out of the way: It's a still from Transporter 3, coming out November 26. Now. Click the image at left to see the giant, hi-res, sweet…