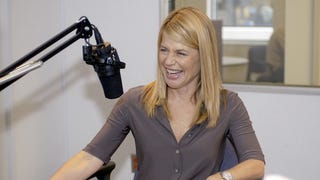 Maybe you didn't flock to the theater this weekend to see Arnold Schwarzenegger, Bruce Willis, Sylvester Stallone and Jean Claude Van Damme make jokes about how they're getting too old to make jokes about getting too old to be in action movies — it's okay, Hollywood forgives you. Not only does Hollywood forgive you,…
The Expendables debuted at number one this weekend, earning $35 million and beating out Eat Pray Love, which ranked second with $23.7 million. EPL attracted mostly older women — 72% of the audience was female and 56% was over 35.
"These men have a loyalty to each other that never wavers. As for their loyalty to women… That's the movie I'd like to see." Just in time for the opening of the The Expendables, a suggestion for a sequel.