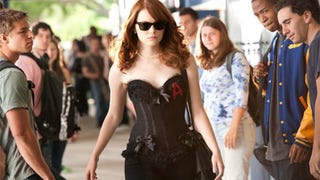 A new study claims that women are HARD WIRED regret casual sex whereas men are HARD WIRED to think random sex is great. This isn't because civilizations place high value on controlling female sexuality and humans are social creatures with an aversion to ostracization; this is because of SCIENCE. HARD WIRED SCIENCE.
Thank goodness for gender stereotypes. Without them, what would shitty stand up comics use as premises for bits? What would evolutionary psychologists study? They'd have to go back to college and get art history degrees, and the comics would be stuck with taking shots about Nickelback, which is the new airline food of…
Sometimes our planet's constant wars can seem as senseless and brutish as a bunch of Neanderthals throwing rocks at each other, and according to one team of scientists, that's what they are: an outgrowth of men's instinct to defend their mates and territories against outsiders. Are you skeptical? Good.