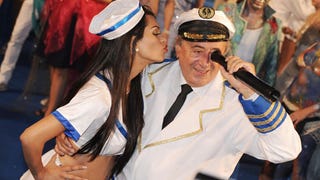 Austrian Richard Lugner, a "quirky 77-year-old entrepreneur known for his young girlfriends and appearances on reality TV," has asked Lindsay Lohan to be his date for the Vienna Opera Ball next month.
Yesterday on Fox News Sunday Brit Hume was asked about Tiger Woods' future. He replied: "He's said to be a Buddhist. I don't think that faith offers the kind of forgiveness and redemption that is offered by the Christian faith."
Taylor Swift and Taylor Lautner have split after dating for three months. "He liked her more than she liked him," claims a source.
Robert Pattinson freaked out when a fan jumped out of a car at a red light and kissed him explaining, "My mom wouldn't pull the car over to let me out because I'm just getting over the swine flu…"