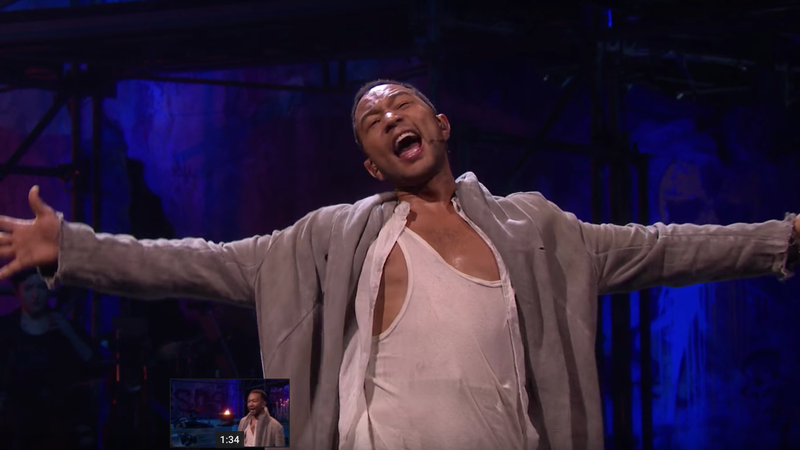 Our friend—my friend—John Legend needs to get this one Emmy Award to become an EGOT sensation.

Viola Davis has spent her entire promotional run talking about how Fences, and August Wilson, are important to her especially because they celebrate and embody the life of the average person. And she, perhaps better than any other actor in Hollywood, has the chops to embody the quiet, subtle emotion that average…
With his Oscar nomination this morning, Lin-Manuel Miranda is like a quarter of an inch closer to an EGOT and thus peak insufferableness.
In what would be an "epic win" for both Lin-Manuel Miranda and the deeply embarrassing BuzzFeed Slack room dedicated solely to discussion of the musical Hamilton, the rappin'-while-finger-snappin' patron saint of theater kids is probably going to win an Oscar for this new song.

The first trailer for the film version of August Wilson's iconic play Fences stars my parents Denzel Washington and Viola Davis, who also happen to be the king and queen of powerful monologues. Both already won Tony Awards for their roles in the 2010 Broadway version of Wilson's brilliant black American story about…
Rita Moreno was one of the first prominent Puerto Ricans in Hollywood—one of the first , period—and remains a source of inspiration as one of Hollywood's most talented. The first boricua to EGOT—Emmy, Grammy, Oscar, Tony, though no doubt Lin-Manuel Miranda's up for that next—Moreno's first iconic role was Anita in the…
Dame Helen Mirren, subway-riding fashion icon and goddess among us mere mortals, is now just one letter away from becoming an EGOT, aka a winner of an Emmy, Grammy, Oscar and a Tony, according to Variety. The 69-year-old actress has just received a Tony Award for her role in The Audience.