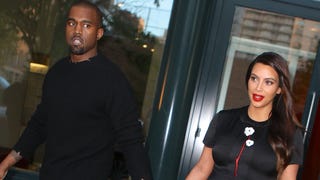 Kim and Kanye will be revealing North West on Kris Jenner's talk show in order to save her Mama Rose ass from cancellation. After Ye couldn't convince Anna Wintour to care, they rejected a $4 million offer from an Australian paper and another "well over $10 million" to show the first photo on Kris.
After serious journalistic reports came in that Sofia Vergara was wearing a "sparkly ring," we sat up all night, vigilant, waiting to see if she had indeed been proposed to on her Mexican vacation with boyfriend Nick Loeb. (Remember that scene in Secretary when she's sitting at the desk in her wedding gown for days…
Mark Ruffalo told GQ that Pennsylvania's Office of Homeland Security put him on a terrorist watch list for promoting the anti-natural gas drilling documentary GasLand. The bureau is denying everything, and Mark says it's all "pretty fucking funny."
David Cassidy was arrested last night in Florida and charged with DUI. Police found a half empty bottle of bourbon in his car, and say he almost hit another vehicle.
This week's multimedia compilation of pop culture crap features Miss Universe surprisingly facing a barrier, drunk babies, and creepy dad David Cassidy.