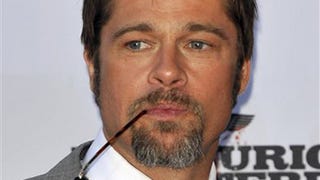 Is Brad Pitt done with showbiz? It almost seems like he's dropping hints:
The cast reunited for last night's finale of I'm a Celebrity…Get Me Out of Here! While Janice has only been gone for a few days, she seems like she may have already tapped into her "vitamin c" pills.
Want to smell like Reese Witherspoon? Well, now you can, thanks to her new perfume, In Bloom. I mean, really: it's scented! I think it gives it a little something extra, don't you think? [DailyExpress]
Adam Lambert put an end to the speculation about his sexuality by going out to a nightclub last night with his boyfriend Drake LaBry. The two held hands and occasionally kissed.
Kirsten Dunst has met a guy! In rehab! The same facility in which Lindsay Lohan met her man! And they don't charge extra for that! [Perez Hilton]
Celebrity Rehab is a really raw show that actually goes there. During the group therapy session, Jeff Conway disclosed one of the demons haunting him — as a young boy, he'd been sexually abused and it was filmed, making him the subject in a piece of child pornography. After that confessional, the gang had a BBQ pool…
[Yorkville (Yorkville is where?? -Ed.), November 14. Image via INF]