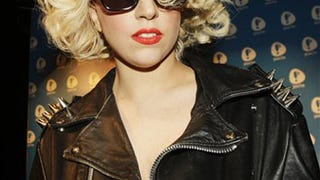 Lady Gaga was seen partying in West Hollywood with a "boy-toy."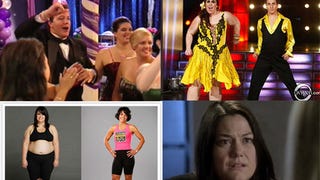 "…These shows traffic in human suffering — which means watching them is either exploitative or cathartic, depending on how tightly those Dockers hug your tummy."— Simon Dumenco, on "The Obsession With TV Fatties." [Details]
Today's Washington Post story about the popularity of plus-size TV shows actually begins, "Have a sandwich, Twiggy."
What is it about Dance Your Ass Off that continues to intrigue, yet repel? Perhaps it's the fact that last night, 33-year-old mom Tara was dressed in a Catholic school costume as she gyrated on a pole to "Promiscuous Girl."
Last night saw the premiere of weight-loss dance contest Dance Your Ass Off, hosted by Hairspray's Marissa Jaret Winokur. The contestants were varied: men, women, black, white, Latino, mothers, fathers, a virgin and a woman who "can't get boyfriends."
Oxygen's new dance/weight loss show, Dance Your Ass Off — starring Marissa Jaret Winokur — "gives viewers a glimpse into the lives of the contestants who have had issues with their weight and hope to dance to unleash their inner thin." The 12 competitors weigh 3,000 pounds combined. [UPI]