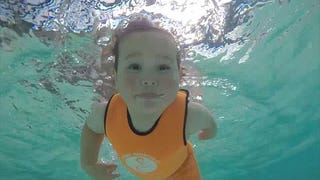 It's Friday. You made it through another treacherous week and even have a woman Democratic presidential nominee. Celebrate by watching a gaggle of adorable babies learn how to swim.
It's Friday. All I ask of the internet is that it not dent my self-esteem with yet another video of a baby or small child doing something fantastic and admirable. This 3-year-old gymnast doesn't care about my feelings.
As of last night, the Golden State Warriors are the NBA's new Western Conference champs. In more important news, Riley Curry made her return to the post-game podium to give a speech.
Ciara released a video tribute to little baby Future today in honor of Mother's Day. One interesting thing about this video is that she waited six months to tell her parents that she was pregnant.
Tiny rap queen Sophia Grace might have some competition, guys. Heaven, the tiny dancer who captured your heart dancing to Beyoncé with her mom on The Ellen DeGeneres Show, is back, and she brought her friends to do whip and do the nae nae all around Harlem.
Life as an adult couldn't be more terrible, but these snapshots take you back to those innocent childhood days when you'd spend the summer bicycling around the block with your awkward friends. Here's Sean "Diddy" Combs' 7-year-old daughter Chance and her best friend Harper Tilmman, the daughter of an ex-NFL player,…
There are few things more adorable than this video of kids trying to resist sugary temptation. According to the famous "Marshmallow Experiment," kids who defer gratification grow up to better adjusted, but still, the girl at 3:00 is priceless. [BuzzFeed]