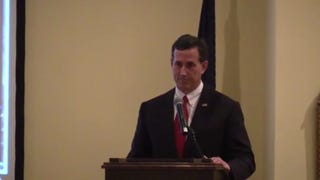 Because he has nothing better to do, shitty former Senator and hilarious former Presidential candidate Rick Santorum was at the South Carolina National Security Action summit today. Also at the summit was a retired schoolteacher named Virginia, whose rambling, spirited question to Santorum stretched for an incredible…
It's always good to see an old friend after a long time apart, especially if that friend is Gloria Spelvin, everyone's favorite opossum-loving eccentric. And this time she's reading her opossum poetry. We've missed you, Gloria!
That's right, this lady really thinks that birds are falling out of the sky because "Don't Ask, Don't Tell" was repealed.
Says movie buff Jeffrey Wells: "Could there possibly be a more toxic symbol of the utter nowhereness of girlie America than Sex and the City 2? What could've better inspired that jerkoff who tried to blow up Times Square?" [BlackBook]
Say you're having sex with a woman, but you're worried that, being a lying, baby-hungry female, she might secretly impregnate herself with the used condom. Your solution: hot sauce.