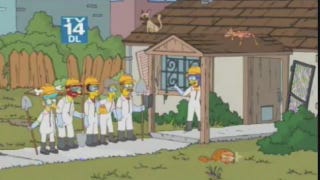 Tonight's episode of The Simpsons focused on hoarders, a topic that must have seemed prescient when the show went into production eight months ago. Actually, the episode was about Homer replacing Chong of Cheech and Chong, and Marge's hoarding was just a hastily thrown together B-plot that had nothing to do with the…
As we all know, the Internet is a magical place full of cat videos, cheap thongs, and complete racist fucks who hang out on dating sites trying — and occasionally managing — to appear normal enough to bother taking to.
Thought you'd finally conquered uncute car fumes with Hello Kitty's motor oil? That's a start, but to really pollute in style, you'll also need her exhaust tailpipe.
For just $5.99 a bar, this cat food-scented soap will attract feline friends while simultaneously driving away human companions.
In today's Guardian, Tom Cox examines the Crazy Cat Lady stereotype, explains why cat people are cool, and teaches us the technical term for "cat-lover."