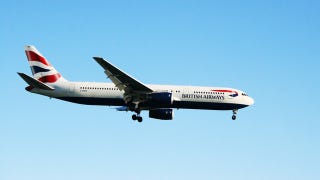 Passengers on a British Airway flight from Miami to Heathrow got the scare of their lives yesterday. It was about 3 a.m., and they were mid-air when an automated announcement started playing in error. It said there was an emergency, and the plane was about to make a water landing. As people began to freak out, the…
A Pennsylvania driver caused a collision when he braked to avoid what appeared to be a body in the road. It was a blow-up sex doll. All were unhurt.
On tonight's fourth season premiere of the mun2 reality show The Chicas Project, stars Crash and Yasmin are trained in the self-defense techniques of Krav Maga, and during her final test Crash proves she's a quick study. Clip at left.
73-year old Delia Miller crashed her car (by accident! snowy roads, blah, blah) into a hair salon as she pulled up for her appointment. Though over $15,000 in damage was done to the salon itself, Delia was just fine. And after crashing her car, she got out, went in, and proceeded with her hair appointment. [ABC News]