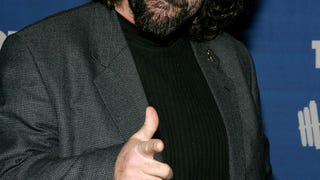 Thirty-three Chilean women have taken over a disused coal mine to protest the end of a government jobs program. A hundred other protesters have gathered at the mine entrance — no word on whether the crowd includes any mistresses.
After word of the Chilean miners' "Pact of Silence" got out, the rumors got to swirling. Now, Mario Sepulveda, an exuberant face of the 33, is breaking the pact to set the record straight.
Chilean miner Yonni Barrios caused a stir when he asked both his wife and his mistress to meet him on the surface. Now it turns out he has a third girlfriend — and an endorsement offer from AshleyMadison.com. Success!
Less than 24 hours after the last man was rescued, Discovery Channel is already planning a special on the Chilean miners. Also in development: A Spike reality show about American miners and a film about the rescue starring Javier Bardem.
Brett Favre's unsolicited-penis-picture-sending ways might cost him his endorsement deal with Wrangler. The company wouldn't comment on the athlete's future with the brand, but said it was following the story, "like everyone else." [WWD]
The wife of Ariel Ticona, one of the 33 miners trapped underground in Chile, has given birth to their third child. Though they planned to call the girl Carolina, she has been named Esperenza, which is Spanish for "Hope."
As though the Chilean miners trapped underground for weeks needed more to worry about, their personal lives just got complicated — apparently their wives and mistresses are fighting it out on the surface.