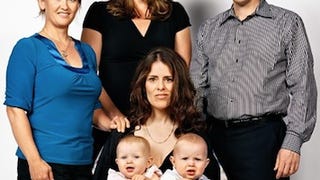 At 41, Melanie Thernstrom wanted children, but every IVF cycle failed. She turned to surrogacy, but she wanted two kids, and worried about the risks of twins. So she found two women, already mothers, to carry a third woman's eggs.
We don't want to tell you too much about this Facebook account of one woman's childbearing and aftermath. We just think you should read it.
Of all the complex factors that go into having a cesarean birth, one California report finds evidence that one influences than the rest: whether the hospital is non-profit and for profit. C-sections bring in up to twice the revenue.
If debates about childbirth weren't already incendiary enough, here's a phrase that's being debated online lately: "birth rape." It refers not to forced sexual contact, but to violations experienced during childbearing.
U.S. News & World Report has a handy little quiz about whether you can afford a baby. Surprise! In a consumerist culture, they're kind of expensive, plus there's that whole 18-year-commitment thing. Some of us can barely commit to a job for 18 months, let alone a relationship, let alone a crying, wiggling, pooping,…