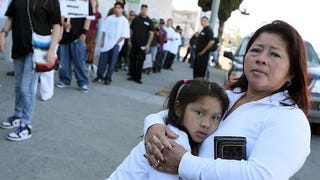 Is the Arizona's new immigration law — wherein officials can ask to see an individual's papers based on the individual's appearance — a feminist issue? And what does that even mean?
[Madrid, September 15. Image via Getty]
Ed Note: We hear about and see so many stories that we can't find the time to comment on that we're gonna try something new: "Leftovers", a daily "accounting" of the stuff we had to leave behind. Let us know if you like it, and, obviously, feel free to click through on the stories and flesh them out for everybody.