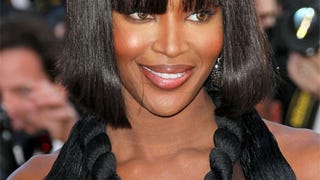 In case you might have forgotten their existence, the Kardashian sisters would like to remind you that they have not only a Bebe clothing line, but also a jewelry collection. It is, says Kim, "inspired by our Armenian heritage." [People]
Victoria Beckham might be adding shoes and accessories to her dress collection, because she's apparently sick of advertising other designers' goods. [Sun]
There is something almost touchingly prelapsarian about The September Issue, R. J. Cutler's documentary about the making of the biggest ever issue of American Vogue.
Juicy details are coming out left and right about R. J. Cutler's documentary about Anna Wintour and American Vogue. Not only did a screener copy of the unreleased doc leak, but it's been revealed that one of the two production companies involved is owned by Condé Nast's arch-rival conglomerate, Hearst.
"Fashion magazine with models on its cover" should be a flippin tautology, but the infrequency with which clotheshorses grace the front of American Vogue meant that its May issue was hotly anticipated. Well, it's here.
Is former overweight person and current size-o-phobe Karl Lagerfeld changing his Hedi Slimane stripes? Beth Ditto, who in addition to being very talented, weighs somewhat more than 100 lbs, is playing a Fendi party. [FWD]
September Vogue jumps out on the news stand for all the wrong reasons. On her fourth cover in three years, Keira Knightley's hair looks reminiscent of a baby primate (though not in a cute way), her pose is all wrong for the Balenciaga she's wearing, and her expression has a whiff of self-consciousness and striverdom…
The facts speak for themselves: Heidi Klum is designing a capsule collection for Jordache, for which she has been modeling over the past year. Think she'll offer hair extensions to cover nipples as well? [WWD, sub req'd]