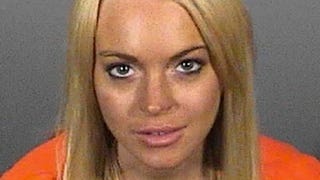 Lindsay Lohan arrived at Lynwood Correctional Facility to begin serving her 90-day jail sentence today, but according to a Sheriff's Department spokesman, she'll be out in 13 or 14 days.
Bryan Batt, who plays Sal on Mad Men, tells The Huffington Post that so far, there is no plan to return his booted character to the show, despite his online popularity. He did have some words on Hollywood's gay paradox:
Pornstar/Tiger Woods mistress Joslyn James watched his apology live today at a press conference with lawyer Gloria Allred. James said she still wants, "An apology, one that was meaningful and that meant something, and I didn't hear none of that..."
Apparently Sterling Cooper Draper Pryce isn't progressive enough for a gay art director: Shooting for Mad Men season 4 starts in March, but Bryan Batt says, "I was supposed to be notified by December 31, and nothing." [TV Guide]
We should have seen this coming: Lindsay Lohan and John Mayer were spotted sharing a table and dancing together at a New York club last night. "She was way into it," says an eyewitness, "She would follow his every move..."
Yes, he's awesome as Sal Romano, Mad Men's hapless closeted art director. But that's just one of the reasons he's in the Arbitrary Male Celebrity's Hall of Fame:
A judge ordered Lindsay Lohan to appear in court tomorrow for a progress report because officials from her alcohol education course reported concerns about her sobriety. If she violated the terms of her probation, she could be jailed.
Heidi Klum is changing her name to Heidi Samuel! Did you know that her husband's real name is Seal Henry Olusegun Olumide Adelo Samuel? Short and sweet. [TMZ]
Lady Gaga was booed by her British fans yesterday after showing up 20 minutes late to her performance and then having to cut her set short as a result. Maybe they were just saying boo-urns? [TheSun]