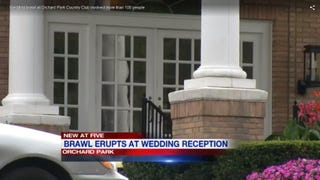 Hot new wedding trend: brawls. These days, all the chicest weddings have them! Take one Buffalo couple, whose reception allegedly culminated in a hundred-person melee that required seven different police departments to suppress. Ah, romance!
Weddings are probably the most common way for newlyweds to drunkenly embarrass themselves before all of their loved ones, but one belligerent groom definitely took that tradition too far. A wedding in Pittsburgh ended with fisticuffs and then handcuffs after the newlywed groom continuously felt up pregnant bartender…
Fifteen people were arrested in a "melee" that occurred at a Rye, New York amusement park after a group of Muslim women were denied entrance to some rides because of safety regulations banning any kind of headgear.
A Sexy Lingerie War is brewing in Columbus! What, you thought next Tuesday's primary was the most interesting conflict underway in Ohio? How wrong you'd be! The lingerie war will be better-financed, affect the contents of your underwear drawer for decades to come and has the potential to finally put an end to…