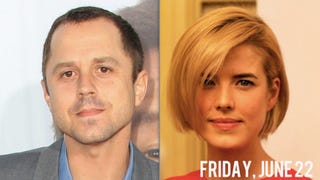 Giovanni Ribisi, Giovanni Ribisi's moustache and model Agyness Deyn have apparently been dating on the sly for months and quietly married in Los Angeles this weekend. As recently as March, Deyn told press "I'm all alone. There has been no man in my life for several months now and although it would be nice to have a…
On last night's episode of The Rachel Zoe Project, Rachel delegated the task of Anne Hathaway's costume change at the Oscars to her assistant Brad, who cried tears of joy when he first learned the news.
On last night's Comedy Central's Roast of Joan Rivers, an assortment of (mostly) not-that-famous celebrities paid homage to the groundbreaking comedienne Joan Rivers by cracking jokes about her supposedly old, decrepit, used-up, nauseating, ugly vagina... and face.
Chris Brown was supposed to be sentenced today for pleading guilty to felony assault, but the sentencing was postponed to August 27 so the judge could review his full community service schedule, which she wants to include hard labor. [TMZ]
Is Ashley Olsen getting married? The National Enquirer thinks so. It'll happen on the French Riviera next summer; she wants Karl Lagerfeld to make the dress and Annie Leibovitz to take the pix. Oh, the hubs-to-be is boyfriend Justin Bartha. [Daily Express]
Lindsay Lohan and Samantha Ronson: On the rocks??? Apparently LL loves to party and Sam is shuns the spotlight; plus Sam's a thoughtful person and isn't sure how she comes across in this "celebrity romance." Gah. [Daily Mail]
What kind of fuckery is this? Amy Winehouse borrowed some designer dresses. When she returned them, they were splattered with vomit. [Mirror]
Welcome back to Midweek Madness! Let's play One Of These Things Is Not Like The Others, with Us as the obvious winner. While the other weekly covers feature Jen Aniston, Brad Pitt, Angelina Jolie, Tom Cruise, Katie Holmes and Britney Spears, Us went with the daring choice of Shawn Johnson and Nastia Liukin. Too bad…