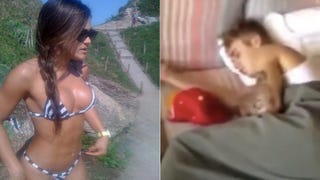 A few days ago, news broke that a young woman had taken a video of Justin Bieber sleeping. Well now that young woman is saying that the two of them did more than snooze together, ifyouknowwhatI'msaying.
Oh, Justin. His breakup with Selena Remember When She Left Spring Breakers Early? Gomez has apparently left him so wounded that he's decided to try to rival the popularity of #throwbackthursday and #womancrushwednesday (yes, a thing; no, not a good thing) with #musicmondays. More upsetting: such a tactic seems to be…
Not many things are quite as tiresome as wide-eyed pro-lifers trying to blow our minds with thought experiments about what may have been had the selfish mother of some awesome person chosen to have an abortion rather than do the noble thing and give birth to their sex punishment. In the Bible, Jesus's mother Mary is…
It's such a tragedy. You were only just purging the final remnants of that monstrous earworm "Call Me Maybe" from your system and already Justin Bieber — that devious little vanilla wafer — is back with a whole new pixie-faced brunette for us to lose our Silly Bandz over. (Carly Rae Jepson, according to the Bieber…
We know just what to buy your pre-teen niece this holiday season to make her squee: Justin Bieber nail polish. The collection is called "One Less Lonely Girl" and will be available at Walmart.