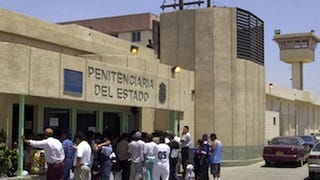 Seven women imprisoned in Guanajuato, Mexico for up to 8 years have been freed after legal reforms reduced the 25-to-35-year sentencing. A local women's activist says they miscarried; the hard-line anti-abortion state says they delivered live babies.
An activist in Mexico says six women in the state of Guanajuato are serving 25 to 30 years in prison for homicide — because they had abortions. Guanajuato also happens to lead the country with its rate of teenage pregnancies.
"There are already two strikes against you because you're black or Hispanic and gay or transsexual. They feel like they can do whatever they want to you, and many times they can." That's Kira, a transsexual, on her prison experience.
Roxana Saberi, the Iranian-American journalist jailed in Iran for allegedly spying for the United States, has vowed to continue her hunger strike until she is released, though her father says she is "very weak."