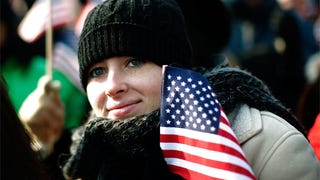 [Washington, D.C., January 20. Image via Getty]
With the first celebrity concert of the inauguration over and a day of rest and MLK-inspired service upon us, there is plenty of time to reflect on Prop 8, Gaza, North Korea and tax cuts.
All day today/tomorrow, we'll be posting dispatches (impressions, images) from our inaugural correspondents, Megan Carpentier and Choire Sicha. First up is Choire, who arrived in the capital last night and is ready for the insanity.
Are you going to Washington for the presidential inauguration? Will you be staying far away but celebrating somehow nonetheless? As part of our coverage, we'll be posting reader photos/impressions — more on this on Monday.