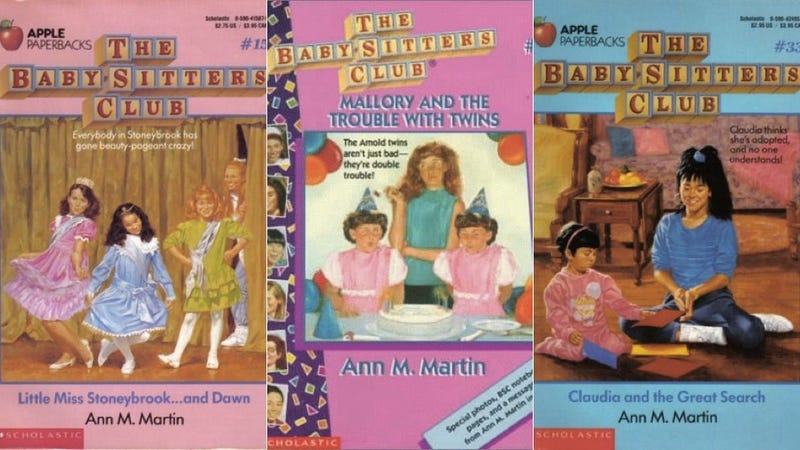 Ann M. Martin, author of the much-beloved Baby-Sitters Club books, recently revealed in an interview with Elle that her favorite character is Kristy: "I feel she set the series in motion." With all due respect to Ms. Martin, the staff of Jezebel disagrees. Here is a very scientific ranking of all the babysitters, from…
Last week, while describing what she thought her Baby-Sitters Club characters would be up to today, author Ann M. Martin admitted that she had no "strong feelings" about Mallory Pike. Incensed as ever, Mallory Pike wrote in to respond.
When I was in 4th grade, my friends and I shared an obsession with the Baby-Sitters Club series, and decided to start an agency of our own: The Super Seven Sitters Co. We took on approximately zero babysitting jobs.
As Margaret mentioned last Wednesday, The Baby-Sitters Club is getting a revamp to take them into the 21st century. With this in mind, I've put together a list of things it might be nice to see in Baby-Sitters Club 2.0.
A new book asks: why are babysitters portrayed as slutty, evil bad girls? Well, probably a few reasons:
Crew, there's so much hype about Victoria Beckham's new bun that I'm not even sure where to begin. Thankfully, a few ladies have agreed to help me make sense of this hair-raising situation. Get it? Hair-raising? Ah, we have fun.
A recent study of sperm whales in the Sargasso sea shows that whale mothers often leave their calves with a group of "babysitting" female whales, who protect the young while their mother dives for food.
Someone named Kim has founded a blog analyzing the outfits of Claudia Kishi of the Baby-Sitters Club. Every single post is stirring these long-dormant emotions. Emotions that formed the basis of my very identity. Seriously, Claudia...where to begin? She was Japanese-American. She was only 12, but her awesome ensembles…