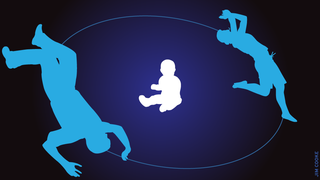 It's so hard to know whether becoming a parent will ruin your life or be the only thing that makes it worth living. We may not get a grand verdict anytime soon, but new research has at least figured out one thing: moms who believe they are the most important person in their baby's life and that they should always put…
It was bound to happen, but the new TIME cover has become a meme in record time. Buzzfeed has a collection of what the striking image hath wrought, and Strollerderby has provided some amusing alternate headlines (Are You MILF Enough?") for the attachment parenting article that took the internet by storm today.
"Even watching a television soap could undermine your defences against disease," warns the Daily Fail — but only if you feel bad about it.
It's time for another installment of Pot Psychology, the advice column in which everyone's problems are solved with an "herbal" remedy. (Remember, kids: Don't do drugs!) In this episode, Rich and I got help from our pal Sasha Frere-Jones, to tackle problems like reclusive behavior, definitions of words, and all the…