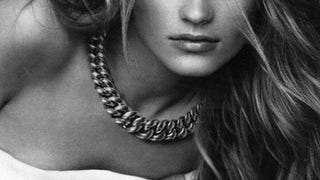 It's not much! Filings made in association with a $3.75 million lawsuit include the earnings statement of one of the plaintiffs, the Polish supermodel Anna Jagodzinska. That ledger tallies gigs for American Vogue, Vogue Paris, and an H&M campaign.
Earlier this week, Vladimir Potanin bought Ford Models. But just who is this billionaire oligarch, media mogul, mining tycoon, philanthropist, and ex-politician? And what's the deal with Potanin's former partner and that whole prostitution-ring scandal?
Crystal Renn is in an ad for Chanel's downtown New York store, which is reopening this fall. She poses alongside Lagerfeld boytoy Baptiste Giabiconi, whom she calls "the most gorgeous man I have ever seen, hands down."
The first images from Katie Holmes' campaign for Miu Miu have arrived... [Vogue UK]