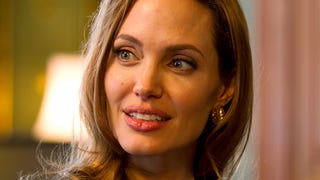 In addition to the double mastectomy that Angelina Jolie underwent in February, we learned in her New York Times op-ed, she also plans on having an oophorectomy — ovary removal surgery, a procedure recommended for high-risk women before the age of 40. Without this, her BRCA1 gene still places her risk of ovarian…
So what happened in the tweetosphere? Well, some people got literary. Some got hungry. And Nicole Richie found that great minds think alike.
In a totally predicable career move, Kim Kardashian has started recording an album. It seems Kim wants to be a pop star, thus proving that she has talent for something other than making sexyface and gabbing about her family.
After trashing a hotel room and passing out naked due to drugs an "allergic reaction," Charlie Sheen has decided to return to rehab. "That's his plan right now. He knows he has to do something," says a source.
"When we try to go to TGI Friday's or Applebee's, we can't eat because people go crazy." It has gotten so Snookie has taken to trying to conceal her identity behind sunglasses, even at night. [Page Six]
Legendary newsman Walter Cronkite has died at 92; President Obama released a statement calling Cronkite "a voice of certainty in an uncertain world. He was family. He invited us to believe in him, and he never let us down."[Reuters]
On last night's finale of Sober House, Andy Dick chose to make amends with his 20-year-old son. Knowing him as a comedian, it's hard to tell when he's serious.
Andy Dick a drug addled sleazo? You don't say! The troubled comedian allegedly pulled up outside a Buffalo Wild Wings restaurant in Murrieta, California, and after he got his wings, allegedly "walked up to a 17-year-old girl, grabbed her tank top and bra and pulled them down, exposing her breasts." When cops arrested…
Will Heath Ledger earn an Academy Award for his role as the Joker in The Dark Knight? That's the buzz coming out of his native Australia. [News.com.au]


We imagine that Kathy Griffin must be completely stoked that she now has an E! True Hollywood Story. It's probably on par with a mega-fanboy geek getting plucked from the floor at ComicCon to star in some superhero flick or a story arc on Lost. Since there aren't really any sordid tales of drugs and booze in Kathy's…