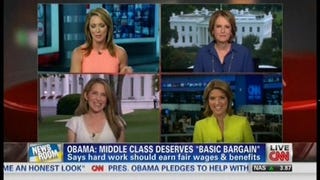 You're not hallucinating as you slip into a mid-afternoon taco coma; CNN really did just feature a panel of four women discussing something on the news. And — AND!— the all-lady discussion wasn't even about so-called "women's issues" like THE ROYAL BABY or COOL FAVORS TO GIVE OUT AT YOUR BUDGET RECESSION WEDDING —…
If you follow me on Twitter, you know that I'm a big fan of RuPaul's Drag Race. The transformation, the glamour, the sheer eleganza extravanga is something my life needs to interrupt the monotony of grad school. I was able to catch up on nearly four seasons in a little less than a month, and I've been watching the…
Whenever a new fad takes over pop culture, social scientists take note. They host conferences, teach courses, and write popular pieces trying to tie the newest thing to their favorite area of research. Consider this post a humble attempt to take that trend to its epic, nerdtastic next level.
Kanye West's film, Runaway, is 35 minutes of lurid fantasy, complete with a model covered in feathers, a giant papier-maché bust of Michael Jackson, tutu-clad ballet dancers and an inter-species sex scene. What does it all mean? We have answers.
Hate your boss? Maybe that's because he's a stand-in for your withholding dad. Competitive with a coworker? Obviously she reminds you of your little sister. According to a piece in today's Times, workplace relationships tend to mirror family (dys)function. Which means, basically, we're all screwed.