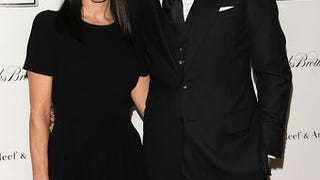 I'd always associated the word "ball" with, y'know, gowns. But what do I know? At the 2010 Tribeca Ball, held at the NY Academy of Art, Parker Posey and Jennifer Connolly and everybody else looked, instead, ready for rooftop cocktails.
Don't hate Vanessa Paradis because she's beautiful. And partners with Johnny Depp. And Chanel threw her a dinner last night for Rouge COCO at NYC's Mark Hotel with every major tastemaker. But you're allowed to hate her weird patchwork dress!
John Travolta allegedly refused medical help after his son Jett suffered a seizure — which is why the paramedics in the Bahamas were trying to blackmail him.
New lows in celebrity sartorial publicity: Dior would like everyone to know that Madonna was wearing its sunglasses when she visited the victims of her stage collapse in Marseille, which killed two workers and left eight injured. [WWD]
Good morning! Obama is president, did you hear? The hat Aretha Franklin wore to sing "My Country, Tis Of Thee" was hand-molded and embellished with Swarovski crystals by Detroit milliner Luke Song. [WWD]